| | | | | | | | | | | | | | | | | | | |
| --- | --- | --- | --- | --- | --- | --- | --- | --- | --- | --- | --- | --- | --- | --- | --- | --- | --- | --- |
| Latest updates | 15 May 19 | 22 Mar 19 | 22 Mar 19 | 21 Mar 19 | 14 Mar 19 | 15 Sep 18 | 14 Sep 18 | 14 Sep 18 | 14 Sep 18 | 8 Apr 18 | 8 Apr 18 | 8 Apr 18 | 19 Nov 17 | 21 Aug 17 | 27 Jun 17 | 16 Jun 17 | 16 Jun 17 | 16 Jun 17 |
| | |
| --- | --- |
| Fenzy (France) | |
| | Current logo |
Fenzy is famous for having commercialized the first horse collar BCD, usualy called Fenzy in Europe.
Web site of 'Fenzy' : http://www.bacou-dalloz.com/fr/indexproducts.lasso?where=bacou&-token.act=products/bacoufilesite/fr-4152a-txt.htm
Related Book(s)
| | |
| --- | --- |
| | |
| Contains sereral pages on the Fenzy rebreathers | The bible about THE FENZY, it has all the molels with blow parts. |
Mixgers 78
Used for diving to a maximum depth of 80 metres.
---
The system is composed of two parts, a tri cylinder and a rebreather.
Oximix 3c
Composed of three cylinders (two of nitrox and one of pure O2) and one rebreather. It can be used as a fully closed circuit (O2) or semi close circuit (NITROX).
---
Earliest version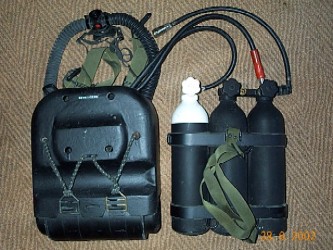 Oxygers
Close circuit rebreather.
---
Used by the French Navy